Dahua Technology's HDCVI CCTV cameras excel in functions and prices
Dahua Technology is a Chinese video surveillance products provider, with 22 branch offices around the world. The company achieved "the second highest market share of the of global video surveillance equipment market in 2015" and is a well-known brand of CCTV Cameras, Video Recorders, Alarms, Locks, Sensors, among other security devices.
Dahua Technology offers a wide range of products to cover the needs of different environments such as residences, stores, industries and other important facilities.
The company invests more than 10% of their sales revenue in Research and Development per year, aiming for the constant improvement of their technologies. In the year 2015, Dahua Technology has a revenue of about CNY10.1 Billion (about US$1.57 billion).
HDCVI CCTV Cameras from Dahua Technology
HDCVI, High Definition Composite Video Interface is actually an invention brought by Dahua Technologies, which they have allowed to be open to other manufacturers. HDCVI CCTV Cameras are considered as a revolution in the world of video surveillance.
This technology is a new method of video signal transmission via coaxial cables which allows a better resolution. It is a high quality yet cheaper option than Network IP cameras and a better alternative to the same price analog CCTV cameras, which deliver a lower image quality.
Systems with HDCVI technology are able to transmit audio, video, and control through the same cable, while regular analog CCTV Cameras require different cables for each signal.
Dahua Technology offers several types of cameras under this product segment, divided into several categories: Lite, Pro, Ultra, and Multi-Sensor Series.
Lite Series groups 1 to 4 MP cameras with different characteristics regarding shape, such as Bullet, Dome, and Eyeball cameras. Also, varifocal and waterproof models are available.
Pro Series include cameras with 2MP to 4MP resolutions and similar shapes as those mentioned above.
The Ultra Series goes up to 8MP. Some models in this series comprise Starlight technology for low-light conditions, such as the MP IR Varifocal Starlight HDCVI Bullet CCTV Camera.
Multi-Sensor series is represented by the 3 x 2 MP Multi-Sensor 180° Panoramic HDCVI IR Bullet CCTV Camera, which includes three 3.6 mm lenses, delivering a 180° Panoramic Output; also offers 2D and 3D Noise Reduction for a sharper image.
Network IP Cameras from Dahua Technology
These types of CCTV cameras work wirelessly via an IP Network, which means it is a higher and more expensive technology.
Dahua Technology has a wide offer in this category of IP cameras, including Lite, Wi-Fi, Multi-Sensor, Ultra Smart, Eco-savvy 3.0, Consumer and Panoramic Series. (Further reading: how to select the best IP camera?)
Lite Series cameras range from 1 to 4 MP in several shapes (dome, bullet, and eyeball) and some of them come in the "mini" size version of each shape.
Wi-Fi Series includes cameras with resolutions from 1.3 to 3 MP able to work with both Wi-Fi and Ethernet.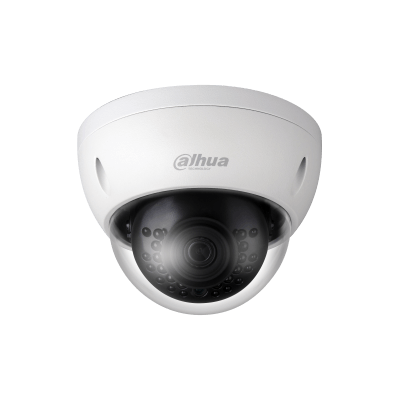 Multi-Sensor Series cameras are mainly by the DH-PSD81602N-A360 and the DH-IPC-PFW8601N-H-A180 models. The first one offers a 360° panoramic view with 8 sensors of 2MP each while the second one is capable of delivering an 180° view and includes Ultra-low light sensitivity for dark conditions.
Ultra Smart Series range from 1.3 to 12 MP in several shapes (box, bullet, dome, and pinhole) and some models offer the following features:
Face Detection
Tripwire Detection
Intrusion Detection
Scene Change Detection
Eco-savvy 3.0 Series groups several models of cameras with resolutions ranging from 2 to 8 MP, also with smart detection functions such as those mentioned above as well as the Starlight technology for better footage in low-light conditions.
The Consumer Series goes from 1 to 3 MP in resolution in most sizes and shapes.
Panoramic Series cameras are divided into two groups: Fish Eye and Multi-Sensor (just like the ones described above). Fish Eye cameras are vandal proof and some models include a built-in microphone, all embedded in a different design that brings many benefits to the user.
PTZ Cameras from Dahua Technology
PTZ cameras are devices available for both HDCVI Camera and Network IP Camera. PTZ (Pan-Tilt-Zoom) refers to the feature of automatic motion/thermal detection of the camera, which is capable of changing its zoom control and direction towards an identified target.
Dahua Technology offers several types of cameras in this category with very similar characteristics to the ones described above for both Network and HDCVI cameras.
Optical zoom and tracking features are the main characteristics of these specific type of device, which allow the possibility of monitoring certain objectives by detecting changes in the scenes covered and then zooming in in the area where the change was perceived.
All in all, Dahua Technology works hard in order to offer superior quality products with great features that improve security systems in all kinds of environment.
Want to install Dahua CCTV cameras? Contact us and you will get the best price in Singapore. (Further reading: How much does it cost to install CCTV Cameras in Singapore?)
Contributed By CCTV Camera, CCTV Singapore, and Safe Singapore